Voweletics is phonics simplified
Let Voweletics help you guide your child down the path to successful reading. Our step-by-step teaching tutorials give you the essentials to take the frustration out of helping your child with reading. Whether your child needs additional support or accelerated skills, Voweletics provides the way.
bring systematic instruction to the classroom
Structured Teaching Method
Voweletics' research-based method consolidates the phonetic code into three simple rules and places them on a single chart. Each Voweletics lesson teaches to one phonics skill from the chart.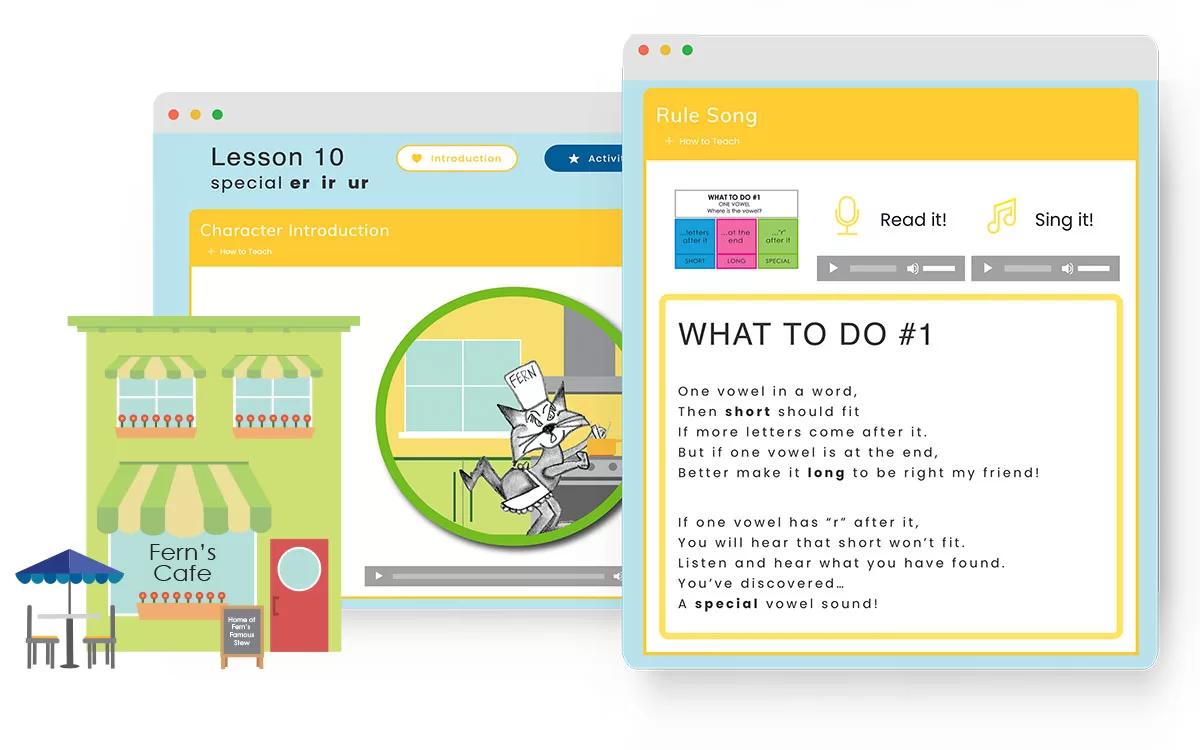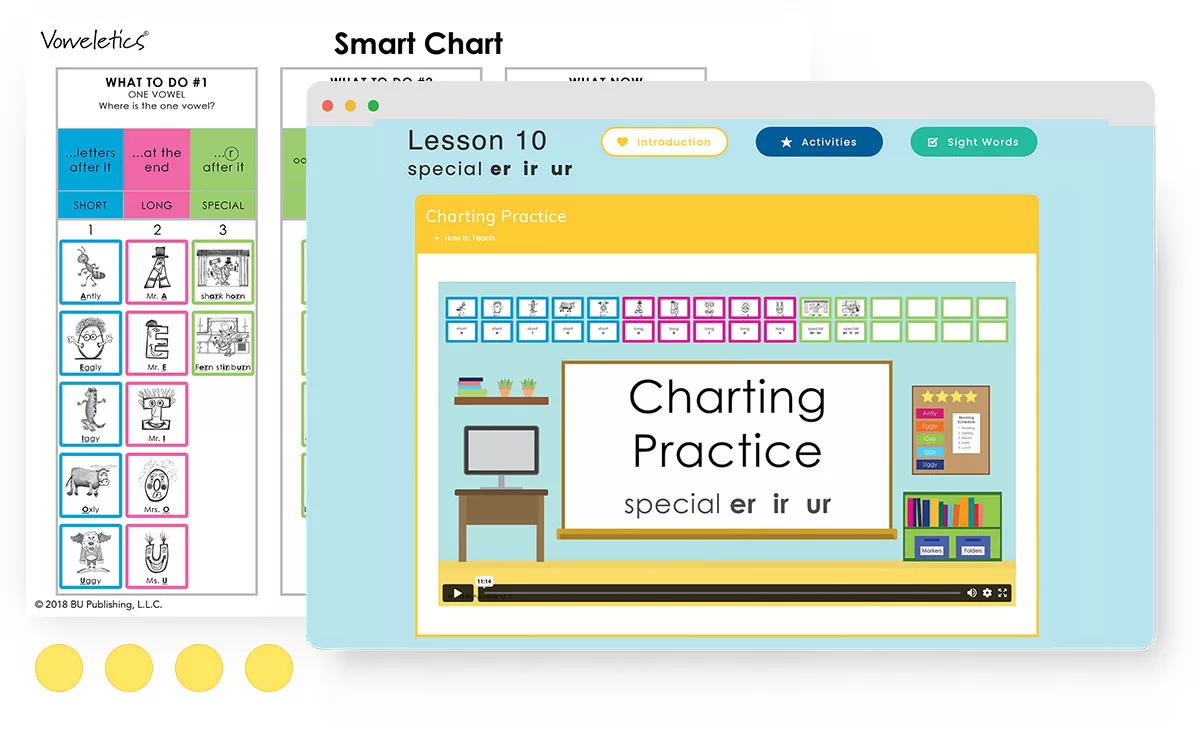 Develop excellent word decoders & spellers
Guided Teaching Instruction
Step-by-step video tutorials found in each lesson teach the educator exactly how to teach the learner. When children understand how & why different vowel sounds are heard, they develop the confidence to accurately sound out words. Voweletics Charting provides the roadmap for the correct internal process needed to accurately sound out words. 
Watch an excerpt from Lesson 10 Charting Practice to see how The Voweletics Method is taught. Charting Practice videos average 10 minutes in length.
Coordinated learning activities
Word Lists build vocabulary and allow children to practice the vowel rules. The accompanying audio files help strengthen reading fluency. Cumulative Word Lists, scattered throughout the program, provide the opportunity to reinforce learned skills.
The 100 most common sight words make up 50% of the average reading content. Voweletics provides a precise plan for advancing sight word proficiency. Sight Word Practice is self-paced because Voweletics includes the self-checking audio files.
Reader's Theater consists of leveled poems and various other content that encourage children to practice repeated reading. This proven strategy increases fluency, demonstrates proper reading expression and builds the reader's confidence.
Activities are interspersed throughout the 26 Voweletics lessons. They provide children with opportunities to practice the new vowel skill in context and acquire new vocabulary. The worksheets are multi-leveled according to skill complexity.
Katie S.
Elementary School Principal

"I whole-heartedly endorse the Voweletics Reading Program. It's not only completely engaging to the students, but has proven to be a wonderful professional development tool. Pilot studies over the years have proven it to be an effective learning method. It provides students, parents and teachers with a reading process that is easy for all to understand. The program is carefully crafted to provide differentiated learning to reach all learners. When introducing Voweletics to your school, it will surely be met with similar excitement. This is a reading method that truly makes sense."
Cultivating joyful learning using dynamic content
Multi-sensory components in each lesson
The visual, auditory & kinesthetic components in the Voweletics reading program encourage the use of the analytical left brain and the creative right brain. Voweletics students demonstrate acceleration in decoding skills, reading fluency and overall comprehension in as little as 10 weeks.
Kindness abounds in Readersville
The Voweletics characters live in the town of Readersville, and each character serves as a guide word. These charismatic residents engage children, crank up the excitement level, and model Character Counts values. Children become acquainted with the characters through their songs, poems and stories.
Rapid memory recall through song
You know those phone numbers or company names you can always remember because they are tied to a catchy jingle? We do, too! That's why Voweletics created original songs with our own catchy beats. The songs help facilitate rapid memory recall to help children phonetically sound out new words. 
Mary B.
Educational Reading Consultant

"The Voweletics program paves the way toward independent readers for all kids. It systematically approaches the toughest aspect of decoding – the vowels – while building fluency, comprehension and confidence. Kids do become strategic readers through highly motivating lessons. Kids love it, teachers love it, and parents love it!"
Cathy F.
National Right to Read Ambassador
"Voweletics is amazing! Students are learning decoding rules and remembering them with its teaching songs. Standardized testing shows that the Voweletics method really works."
Amy P.
2nd Grade Teacher

"The kids have absorbed the teaching lessons and have remained very enthusiastic with all of the program. The songs really stick with the kids. I keep hearing one or two singing during other parts of the day."
Have questions? We are here to help!
Sign up today!
Join the Voweletics community. Our Happiness Guarantee means you have nothing to lose and everything to gain. If you and your child don't fall in love with Voweletics in the first 30 days, we will issue a refund and you keep the charts.
Sign up today!
Sign up for Voweletics today. Our Happiness Guarantee means you have nothing to lose and everything to gain. If you and your child don't fall in love with Voweletics in the first 30 days, we will issue a refund and you keep the charts.
School
Homeschool
Parent
Pricing
© 2023 BU Publishing, L.L.C. All Rights Reserved  |  Proudly owned and operated in the USA