next generation of phonics superheros
The Voweletics reading program tackles the hardest part of learning to read by giving children the super powers to conquer those pesky vowels.
Bring Voweletics into your learning space today and watch the confidence level soar!
Voweletics is proudly endorsed by the National Right to Read Foundation
"I have often wondered how you can take our complex, learning-to-read process and simplify it. You have done it!"
Cindy B.   Assistant Superintendent/Curriculum Director
A One-Of-A Kind Phonetic Reading Program
Educational experts trust Voweletics to teach children how to read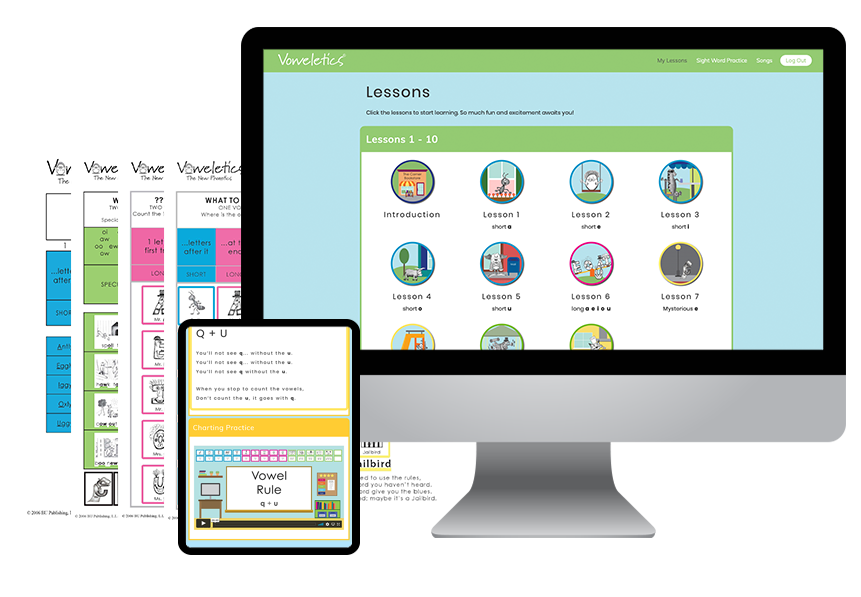 Voweletics The New Phonetics is a phonetic reading program that teaches to a masterfully refined set of phonetic rules children leverage for a lifetime of learning.
Content is delivered through systematic charts, teaching songs and other highly engaging activities that reinforce learning. Step-by-step video tutorials teach the educator exactly how to teach the learner.
Voweletics offers a Kindergarten - 2nd grade phonetic reading curriculum to our schools, learning pods and homeschool educators. We also offer a slimmed down version for parents looking to enhance their child's reading skills.
What makes Voweletics work?
Improve reading accuracy
To become a good reader, it's essential to know the right vowel sounds and when to use them in words. Voweletics consolidates the phonetic code into three simple rules. These rules form the structure for decoding any word.  
The Smart Chart is a printed resource children use until mastery is achieved. When the reader encounters an unfamiliar word, they use the Voweletics LOOK! THINK! READ! process with the Smart Chart to identify the vowel pattern and determine which of the three rules applies. 
Example of the LOOK! THINK! READ! process using the word hen:
The word hen has one vowel, so we will use the Voweletics Rule - WHAT TO DO #1. The letter "e" has letters after it, making this a short vowel pattern. This Voweletics character, Eggly, serves as the guide word so readers know which vowel sound a short "e" makes.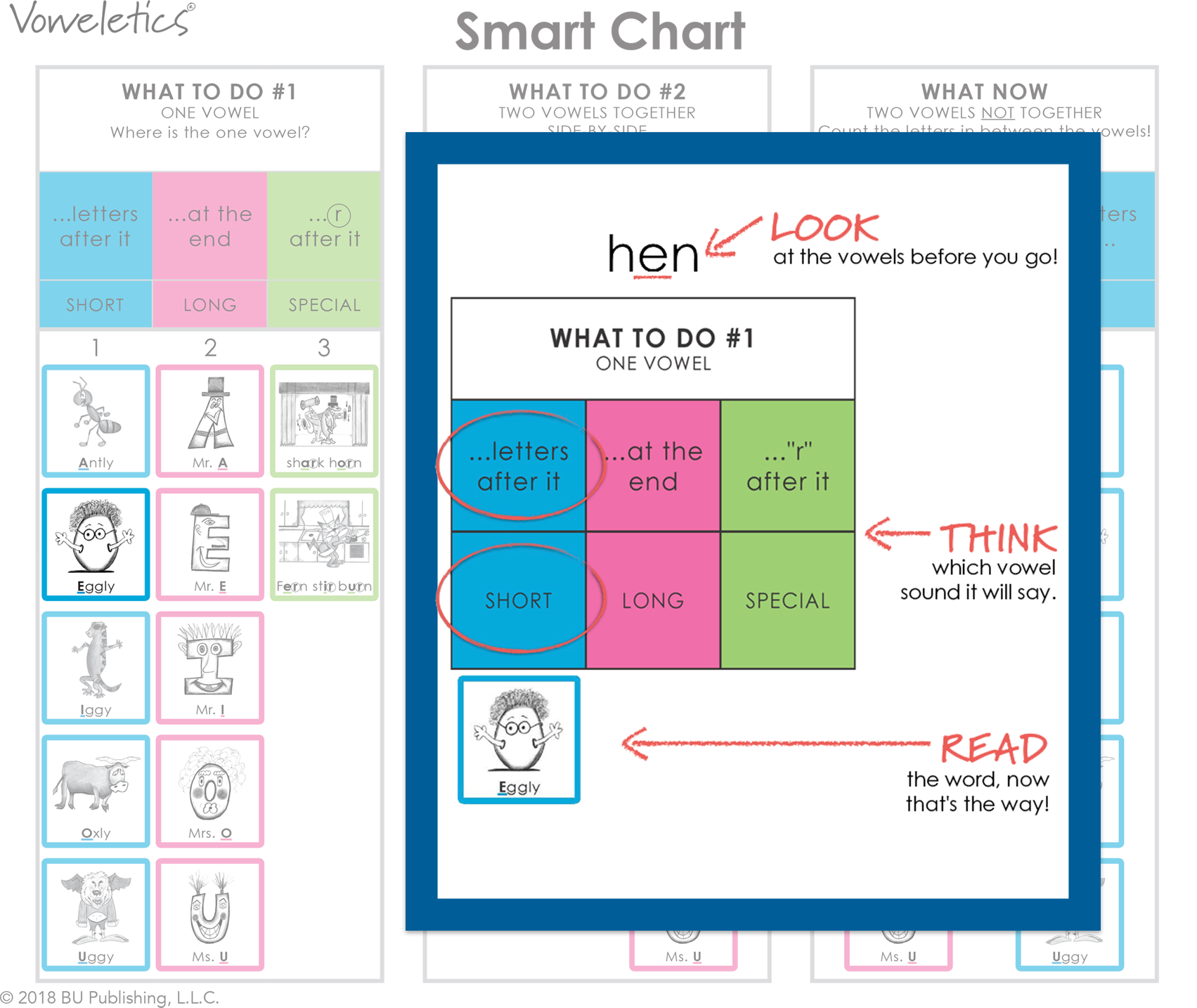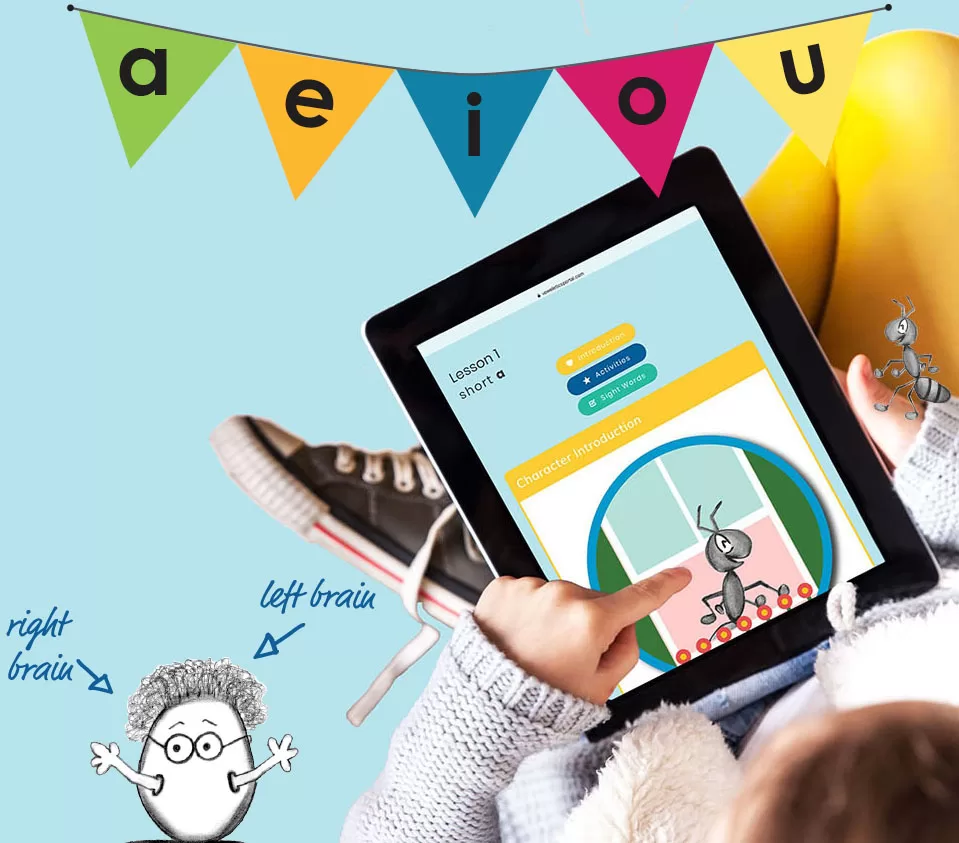 Foster a joyful reading environment
At Voweletics' core is the belief that vibrant and engaging phonetic instruction is critical for skill retention. Voweletics incorporates multi-sensory components (visual, auditory and kinesthetic) into each lesson. These components encourage the use of the analytical left brain and the creative right brain. This technique facilitates rapid comprehension and memory recall.
Cultivate confidence in young readers
Reading is a lifelong skill, so it's critical we encourage a love for reading at a young age. But to experience that love for reading means you feel good doing it, and that feeling can't thrive when a child is frustrated. 
The versatility of Voweletics allows each child to feel a sense of accomplishment, regardless of their reading level.  Voweletics benefits early readers, accelerated readers, struggling readers and ESL learners needing help with reading and spelling. The only pre-requisite is an understanding of the consonant sounds, as Voweletics® The New Phonetics puts its focus on the hardest part of reading - the vowel sounds.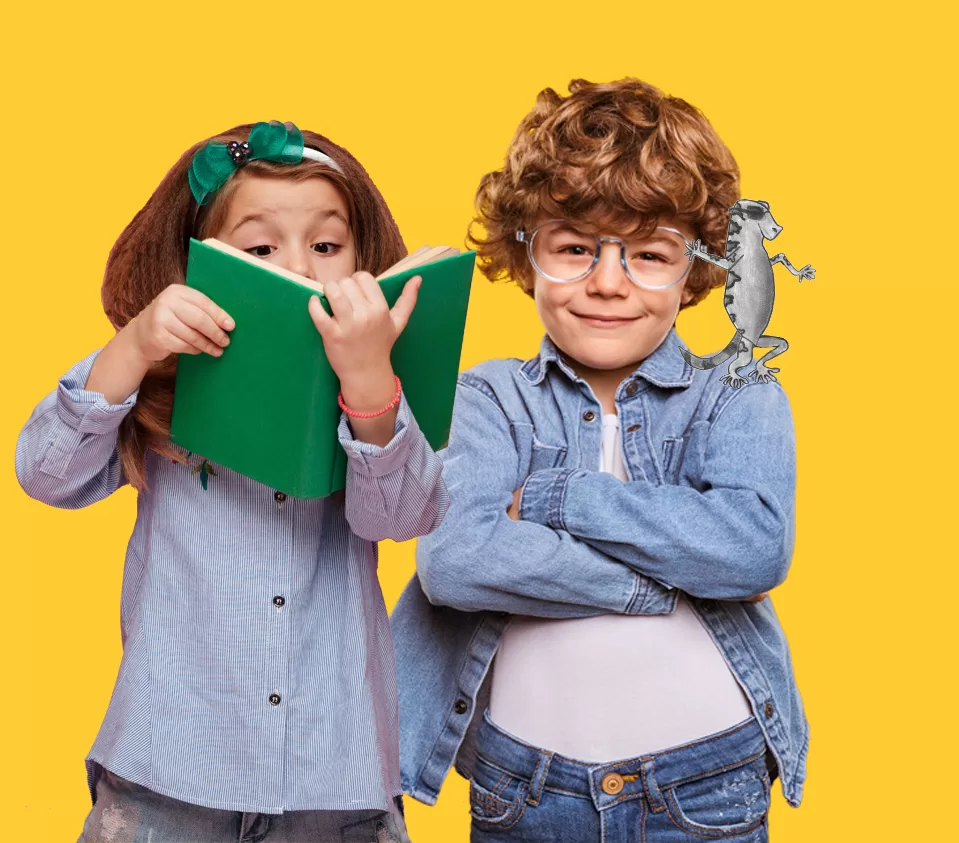 When we say fun, we mean FUN!!!
Have a quick listen to a medley of our favorite Voweletics songs, curated just for you. We guarantee you'll be tapping to the beat with a smile on your face!
A learn-to-read phonetic reading solution for everyone
No matter which teaching environment you find yourself in, Voweletics has a phonetic reading solution designed with you in mind. Learn more about each of our reading curriculums, and join our community today!
"The program you have developed has provided numerous children with the tools they need to both master the art of reading and to develop our enduring love for it as well."
Elsie K.   Professor of Education
"It all worked!
My daughter's reading skills have improved 100%. The connection Abigail made was amazing."
Kristen L.   Parent
"Teach it at our schools!!!"
Carol K.   Parent
"I don't know of any other program that teaches directly to the vowel sounds and vowel patterns, as does Voweletics. You are really on to something!"
Jerry Z.   Reading Curriculum Developer
"Voweletics is amazing! Students are learning decoding rules and remembering them with its teaching songs. Standardized testing shows that the Voweletics method really works!"
Cathy Fox   National Right to Read Ambassador
Mary B.
Educational Reading Consultant

"The Voweletics program paves the way toward independent readers for all kids. It systematically approaches the toughest aspect of decoding – the vowels – while building fluency, comprehension and confidence. Kids do become strategic readers through highly motivating lessons. Kids love it, teachers love it, and parents love it!"
Cathy F.
National Right to Read Ambassador
"Voweletics is amazing! Students are learning decoding rules and remembering them with its teaching songs. Standardized testing shows that the Voweletics method really works."
Amy P.
2nd Grade Teacher

"The kids have absorbed the teaching lessons and have remained very enthusiastic with all of the program. The songs really stick with the kids. I keep hearing one or two singing during other parts of the day."
School
Homeschool
Parent
Pricing
© 2023 BU Publishing, L.L.C. All Rights Reserved  |  Proudly owned and operated in the USA